Ramla Ali brings Sisters Club to Grand Cayman!
On January, 31 at Sunset (5:30pm) on the Wellness Roof join us for an all women's donations based boxing class.
**This class is not for profit. Donations are welcome and will directly benefit Sisters Club, a not for profit initiative founded by Ramla Ali.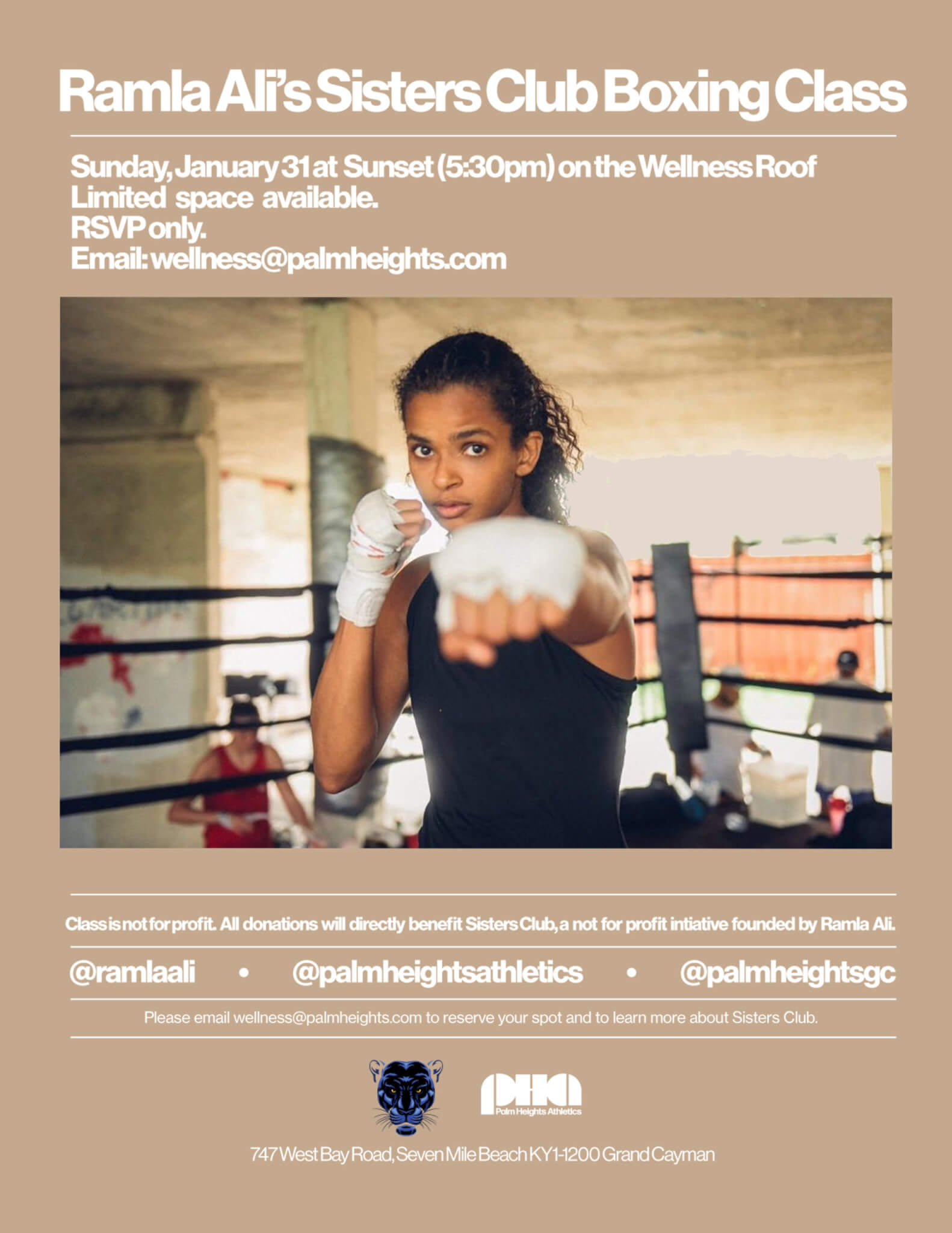 Ramla Ali
Ramla Ali is a professional boxer, model and social activist with a degree in Law from the School of Oriental and African Studies in London. A brand ambassador for Nike, Pantene, Cartier, Coach and UNICEF. A war refugee born in Somalia in the early nineties having fled the country alongside her family as a result of the civil unrest and her brother being killed by a stray grenade, she took up the sport of boxing at the age of 12 years old in secret from her family for over ten years and as a result of being bullied in school and severely overweight. She is the first Somali female boxer in history to have competed professionally. Prior to her turning professional she won the national amateur championships in England twice and the Great British Championship. After not being selected to represent England, Ramla decided to help set up the Somali Boxing Federation in Mogadishu and compete for her home country, she then went on to make history and be the first-person male or female to have won an international gold medal and the first to have won an African Title (Featherweight Champion 2019) for Somalia. She has competed in over 65 amateur fights across the world (Senegal, Bulgaria, India, Botswana, Serbia, Morocco, Sweden, Germany etc) all funded by herself. She has appeared on the front cover British Vogue, Wall Street Journal, Financial Times, Guardian Observer, Wonderland, The Week and Elle to name a few. Her boxing career is managed by Heavyweight World Champion Anthony Joshua. A biopic film is currently in production on her life by Academy award winning producer Lee Magiday (The Favourite & The Lobster) and studio Film4.
Alongside her work with UNICEF, Coach's 'Dream It Real' foundation, Choose Love and other charitable initiatives, Ramla runs 'The Sisters Club'. As a result of Ramla signing a professional contract with Sky Sports Boxing in the U.K & DAZN in the U.S in 2020 she has decided to donate 25% of the first year's fight purses to Black Lives Matter supported charities in the hope of continuing to raise awareness to these issues and creating more equality in education and sport.
SISTERS CLUB
The Sisters Club is a not for profit initiative founded by Ramla Ali in January 2018. It began and still operates as a free weekly self-defence class aimed at women who have suffered from domestic violence, religious and Black / ethnic minorities. It provides a safe space free of men allowing them the freedom to train in comfort and remove there hijabs, whilst also learning the correct technique in boxing. Over the last year and whilst lockdown was imposed across London, Ramla continued the class via video streaming to ensure the participants were able were gain both mental and physical relief during the difficult times. As of the new year in 2021, Sisters Club is expanding into a number of different areas including initially offering ten women the opportunity to obtain their own level 2 & level 3 personal training qualifications free of charge in the hope that these sisters can use the skills learnt to explore other careers if they wanted to. Aside from this the hope is to secure additional funding which will allow us to expand the class to other countries across the world alongside building the first ever female only boxing gym in the heart of Mogadishu, Somlia in the Xamar Weyne district which is where Ramla was born. This building partnership will be in collaboration with Nobel Peace Prize nominated social and political activist Ilwad Elman in Somalia.